Bar
Relax in the Chart Room Bar
Why not come and enjoy an aperitif before dinner or relax afterwards in our cosy Chart Room Bar.  For those wishing to enjoy a drink and a chat with a few "locals", they won't be disappointed as our White Lodge Member's Club regulars frequent the bar and enjoy welcoming hotel guests to Filey and is open to non-residents from 12noon – 11pm.
After a major refurbishment of the beer cellar, we are now able to offer – for the very first time –  cask ale's!   Our first "Hodgson's Choice" had to be Timothy Taylor's "Landlord" for those who appreciate a good Yorkshire pint.  And we were the first on the Yorkshire Coast to offer Black Sheep Brewery's first Lager on tap "54 Degrees North" which has received very good review!  We also choose good local beers served in the bottle from local breweries such as Great Newsome's "Frothingham's Best", "Hodgson's IPA" (well we had to didn't we?!) and "Green's Gluten Free" – owned by a Filey Lad and personal friend.  Of course we continue to serve popular brands on draught too!
We also have a specially selected Wine List – something for every palette. Look out for our personal favourites identified on the Wine List with a "Hodgson's Choice" mark.  These include "Fathoms" Sauvignon Blanc and "Jim Barry Cover Drive" Cabernet Sauvignon (James is a passionate Yorkshire Cricket fan, so we had to have this one – and it tastes good too!)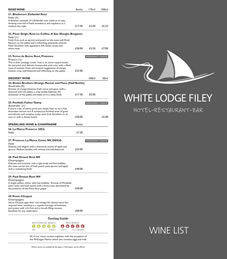 You can also enjoy a drink in the Lounge – either in front of the fire or sitting looking out at the view from the bay window.  Or outside on the large terrace.
We also serve Italian Coffees from the Lounge Bar between 10am – 4.30pm, Monday-Saturday.